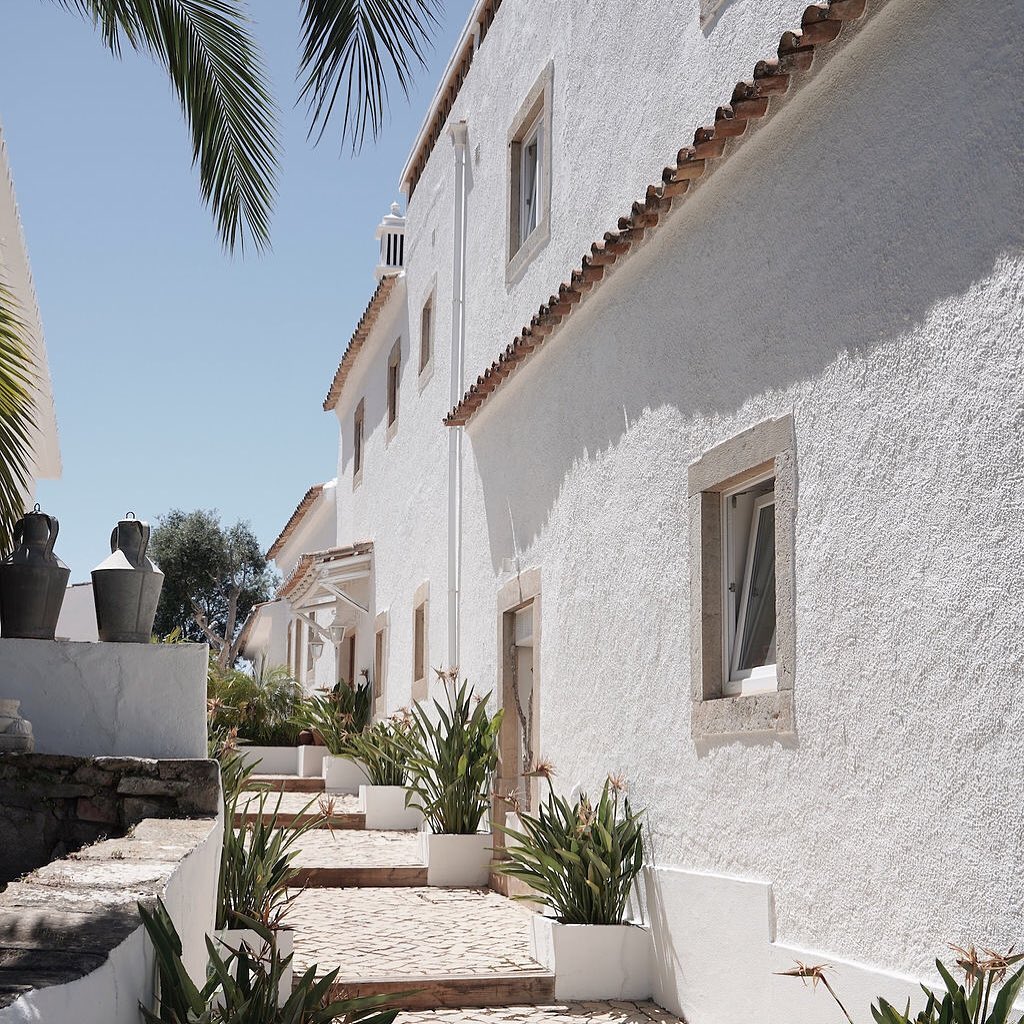 Suites 1, 2 and 3 are on the ground floor and Suites number 4 and 5 are on the second floor of the main house. Suites 6 and 7 are in the former stables, adjacent to the main house. Suite 3 can host up to 2 adults + 1 kid, Suite 5 can host up to 2 adults + 2 kids. Both family suites 3 & 5 are composed out of 2 separate bedrooms.
All suites are spacious and elegantly designed, all have a private terrace with stylish lounge chairs and hammock to enjoy the beautiful surroundings.
Farmhouse of the Palms can also be rented on an exclusive basis (house rental)
Ideal for large family holidays, photoshoots or retreats. The house has 7 ensuite rooms and can sleep up to 18 people
For questions and quotations for the house rental option, please feel free to contact us: info@farmhouseofthepalms.pt or by telephone: +351 964 478 157
The rates below are per room and per night
A delicious breakfast is included.
Children as of the age of 13 years are welcome
VAT is included; Tourist tax not included
A minimum length of stay of 3 nights applies; in peak season 4 nights
Pets are not allowed
Farmhouse of the Palms is closed between November 8, 2020 and April 1 2021.
| SUITES | Low Season | Mid Season | High Season |
| --- | --- | --- | --- |
| | 01/04 - 30/04; | 01/05 - 14/06; | 15/06 - 14/09 |
| | 01/10 - 08/11 | 15/09 - 30/09 | - |
| SUITE 1 | | | |
| 2 persons | € 160 | € 200 | € 220 |
| SUITE 2 | | | |
| 2 persons | € 170 | € 215 | € 240 |
| SUITE 3 | | | |
| 2 persons | € 170 | € 215 | € 240 |
| + 1 kid | € 200 | € 245 | € 270 |
| SUITE 4 | | | |
| 2 persons | € 195 | € 245 | € 295 |
| SUITE 5 | | | |
| 2 person | € 180 | € 230 | € 260 |
| + 1 kid | € 210 | € 260 | € 290 |
| + 2 kids | € 240 | € 290 | € 320 |
| SUITE 6 | | | |
| 2 persons | € 150 | € 195 | € 205 |
| SUITE 7 | | | |
| 2 persons | € 150 | € 195 | € 205 |
| Farmhouse rent | On request | On request | On request |
| Occupation 1 person: minus € 10 per night | | | |
| | | | |
| SUITES | Low Season | Mid Season | High Season |
| --- | --- | --- | --- |
| | 01/04 - 30/04; | 01/05 - 14/06; | 15/06 - 14/09 |
| | 01/10 - 08/11 | 15/09 - 30/09 | - |
| SUITE 1 | | | |
| 2 persons | € 160 | € 200 | € 220 |
| SUITE 2 | | | |
| 2 persons | € 170 | € 215 | € 240 |
| SUITE 3 | | | |
| 2 persons | € 170 | € 215 | € 240 |
| + 1 kid | € 200 | € 245 | € 270 |
| SUITE 4 | | | |
| 2 persons | € 195 | € 245 | € 295 |
| SUITE 5 | | | |
| 2 person | € 180 | € 230 | € 260 |
| + 1 kid | € 210 | € 260 | € 290 |
| + 2 kids | € 240 | € 290 | € 320 |
| SUITE 6 | | | |
| 2 persons | € 150 | € 195 | € 205 |
| SUITE 7 | | | |
| 2 persons | € 150 | € 195 | € 205 |
| Farmhouse rent | On request | On request | On request |
| Occupation 1 person: minus € 10 per night | | | |
| | | | |
APRIL, OCTOBER & NOVEMBER
1st MAY  –  14 JUNE  &
15 – 30 SEPTEMBER